Superb Bronze Figural Baby Boy Child Vase Auguste Moreau Sculpture, 19th C, 5"
Superb Bronze Figural Baby Boy Child Vase Auguste Moreau Sculpture, 19th C, 5"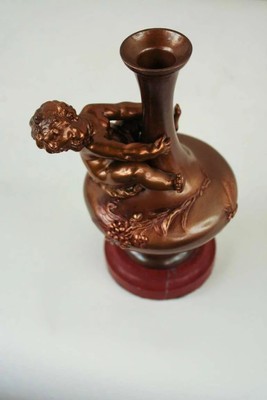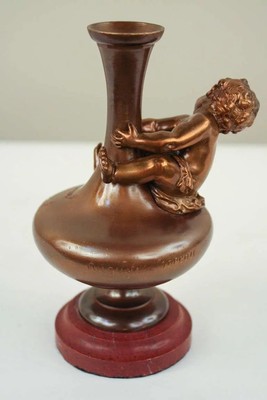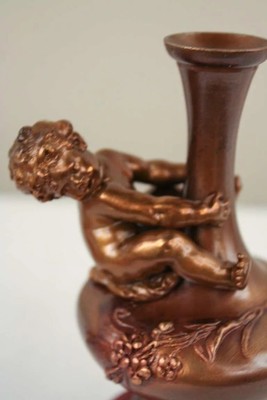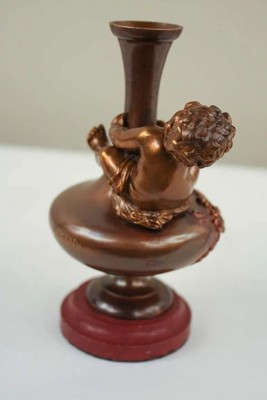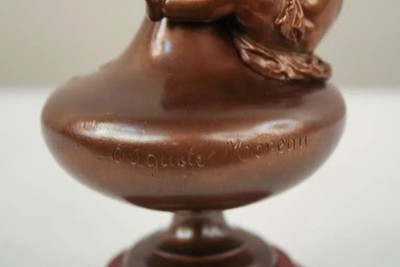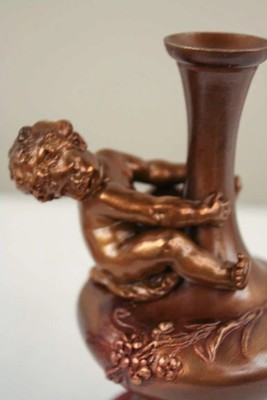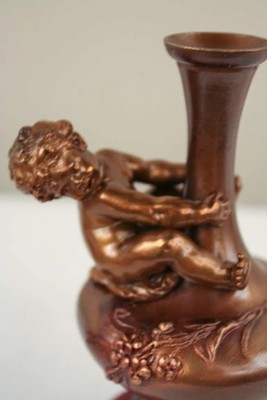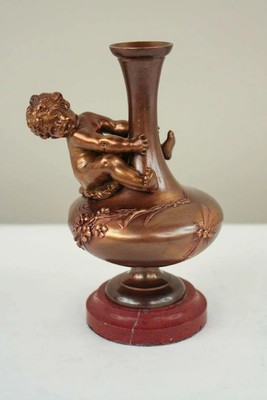 Item Description
Auguste Moreau (1834-1917) was a french sculptor. Born February 22, 1834, Auguste is the son of the sculptor Jean-Baptiste Moreau. His sculptors are mostly bronze, and shown at fine art museums such as the Museum of Troyes and the Museum of Fine Arts of Bordeaux. 
Made by the noted French sculptor Auguste Moreau, this elegant and ornate bronze vase bears his signature. A regular exhibitor at the world famous Salon in Paris; Moreau's work is realistic and graceful: portraying pastoral genre scenes. He studied under Mathurin Moreau. In 1861, Auguste made his debut at the Salon where he would exhibit regularly until 1913. His subjects were primarily young maidens sensuously clad in swirling diaphanous dress and usually decorated with flowers and birds or allegorical and genre scenes incorporating cupids and young children. His style was realistic and graceful, revealing his relation to the other members of the Moreau family. His compositions encapsulate a feeling of innocence while incorporating an air of mischievous fun. La Maison Raingo Frères, founded in 1813, was located in 1830 at 8 rue de Touraine in Paris. First recognized as clock makers, the four Raingo Brothers added art and furniture bronzes in their catalogs in 1841. In 1860, this "Maison", furnished bronzes for Napoleon III and Eugenia Empress, and possessed numerous collection pieces. Their early works were models from the antique and they then published works by living artists. The most famous were Pradier, Carrier-Belleuse and Auguste Moreau. August Moreau's work today is in various world renowned art museums across the country. Truly a piece of history! 
This superb bronze vase is adorned with beautiful detail work; depicting a young child sitting playfully near a pond, surrounded by flowers and a small dragonfly. A beautiful work of art. 
About Us
About Courtland Jewels:

Courtland Jewels has been dealing in art and antiques on the internet for 14 years. With a love for fine estate items, we formed Courtland Jewels to bring you fine art, estate diamond, gold and gemstone jewelry pieces and beautiful antiques at an incredible value. Any items we buy are something we would love to display in our own homes. We sell only high quality diamonds and jewelry that we would want to wear ourselves, with generally white color and VS/SI1 Clarity. Diamonds should be as white as possible and also have sparkle and fire!

About the Artist:

Sarah Kadlic is a professional, primarily self-taught artist specializing in oil paintings. She paints nearly every day and studies for painting all the time ~ whether it be reading, viewing artwork or just plain living. Her travels through the United States and most of Europe inspire her often in her paintings. People often remark that her paintings just simply "make people feel happy". She has sold many paintings throughout the nation and internationally, in corporate and private collections throughout the world. The artist has been featured in Ohio Magazines, on Good Morning America and in local decorating shows and benefits. Her painting prices have risen nearly 400% since her first year of business. Hopefully, they will be an investment piece for you!

Payment
Payment due within three days of purchasing. 
Shipping
Priority mail shipping to your area via USPS in the contiguous 48 states, United States, Europe, Asia, Canada, Australia.  Please inquire about international shipping rates.  Your painting will be packaged with utmost care in bubble wrap and a custom box.  I offer combined shipping on the purchase of multiple items when possible to ship together.  Please allow 1-3 days for payment processing, packaging and shipping.  Thanks so much for looking!  
Terms
We guarantee the authenticity of all our items and respond to all orders within 24 Hours.
Returns
Satisfaction Guaranteed on all purchases.  No questions asked ~ just return the merchandise in original packing within 30 days of purchase and your payment will be refunded (less shipping).  Feedback and Detailed Seller Ratings are extremely important to me so please communicate to me if I am doing anything less than 100%.  I want you to love it!
Frooition | No-js Template | eBay design, eBay store design, eBay shop design, eBay template design, eBay listing design (ver:froo_no_js)
This listing is currently undergoing maintenance, we apologise for any inconvenience caused.