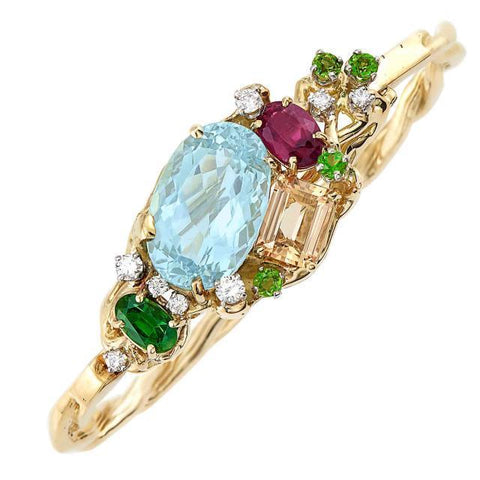 Stunning Peter Lindeman 18k Gold Aquamarine Rubellite Topaz Bangle Bracelet
Impressive Peter Lindeman 18k 
Gold Aquamarine Topaz Rubellite Diamond Bangle Bracelet
This stunning elegant bangle bracelet is formed in 18k gold with beautiful colored gemstones and diamonds.  
The bracelet features one oval aquamarine approximately 10.50 carats, 
one emerald-cut topaz approximately 1.40 carats, 
one oval rubellite approximately 1.35 carats, 
one oval and4 round tsavorite garnets approximately 1.50 carats, 
8 round diamonds approximately 0.45 carats.
The bracelet is marked "18k" and signed Peter Lindeman
The piece weights approximately 33.74 grams. 
The inner circumference is 5 7/8 inches.  The fitting on a normal sized wrist is slightly tight. The owner may want to have it slightly adjusted by a professional jeweler.
A description of the stones: 
Aquamarine: medium light slightly greenish-blue, cleanish, nice shape and cut, lively. 
Topaz: medium light yellowish-orange, cleanish, minor inclusion, nice shape and cut, lively. 
Rubellite: dark raspberry, included, nice shape and cut, lively. 
---
We Also Recommend