Antique Original Etching Children Lithograph Etching Limited Signed Edition
Antique Original Etching Children Lithograph Etching Limited Signed Edition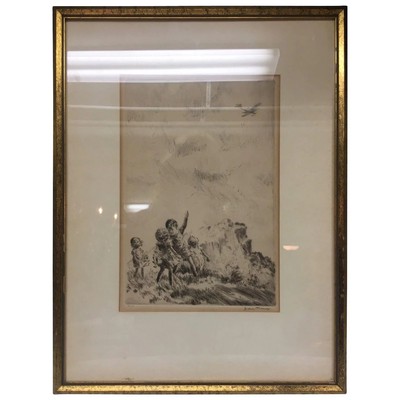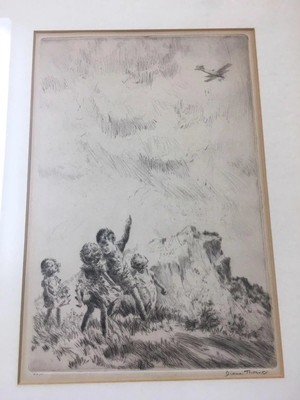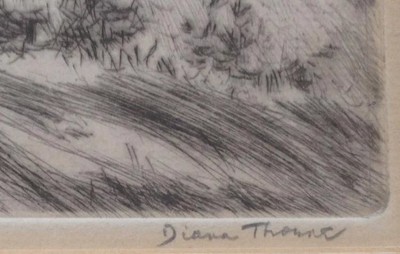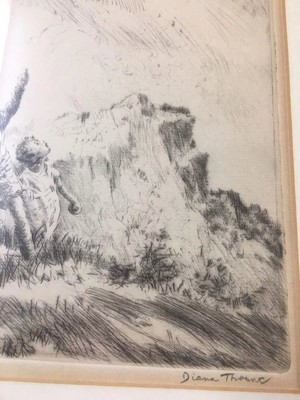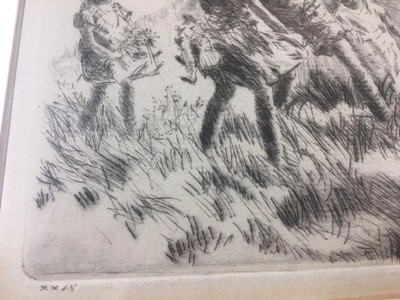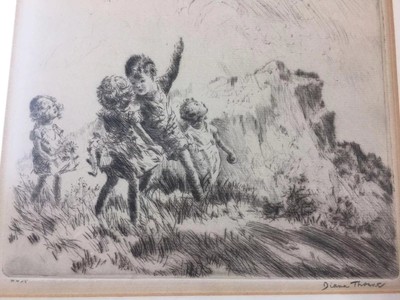 Item Description
Beautiful and Rare 1940s Etching of Children "Spotting a Plane" by Listed Illustrator Artist Diana Thorne Framed in Gilt Wood Frame Framed Diane Thorne Dry Point Etching, 1940's. Diane Thorne (Canadian,b.1895-1965). Framed dry point etching of children pointing to a plane. Signed by the artist in pencil: Diane Thorne, lower right & pencil numbered lower left. Dimension: frame: 18 .75"x 14.25" sight: 11.6" x 7.75". Date: circa 1940's. Good estate condition. Provenance: Connecticut Estate 
Condition Report: Good estate condition 
Diana Thorne was born Ann Woursell on October 7, 1895 in Odessa, Russia. (Some evidence indicates that she may have actually been born in 1894.) In her youth, Thorne spent time in Winnipeg, Canada and later on a farm in Calgary, Canada. She was to eventually become one of America's most recognized canine artists. Thorne began drawing all her favorite four-legged creatures as a young child. She was the oldest child in a Jewish family of four girls and two boys. Her siblings were Abraham, Paula, Judith, Samuel, and Katherine. Thorne's parents were Chaim and Rose Woursell. During this period, Jews in Russia were experiencing severe oppression and physical attacks. The situation seemed hopeless. Canada opened its doors to immigrants fleeing Russia, offering free homestead land in the West. The family left Canada for Germany around 1912 where Thorne took her first formal art studies at the Imperial Academy in Munich and Charlottenburg Technical College in Berlin. The First World War began two years later and Thorne and her family were subsequently detained by the German government. They managed to escape to England, where Thorne was said to have supported herself as a reporter, librarian, writer, bicycle shop owner, and typewriter repair person. At this time she began her first experiments in both illustration and etching and was said to have studied with artist William Strang. On September 27, 1920, Thorne and several of her family members arrived in the United States. Her first published etching, titled "Rollin' Home", was well received in 1926. From this point on, she became an established artist. Thorne began commercial artwork in New York City in 1929. In her private life, she was known as Mrs. Arthur North, claiming to reside at times in Boston, Massachusetts, Philadelphia, Pennsylvania or Connecticut. (The pseudonym Thorne originated from an anagram of the name North.) There is evidence that Arthur North was actually an alias of artist Carton Moore-Park (1877-1956). This ruse allowed Thorne and Moore-Park to present themselves as a married couple, even though Moore-Park was already married. Frequently, biographies of the artist are filled with inaccuracies supplied by Thorne herself, such as referring to her father as a Scotsman or claiming to be Canadian born, which served to conceal the true details of her past.
About Us
About Courtland Jewels:

Courtland Jewels has been dealing in art and antiques on the internet for 14 years. With a love for fine estate items, we formed Courtland Jewels to bring you fine art, estate diamond, gold and gemstone jewelry pieces and beautiful antiques at an incredible value. Any items we buy are something we would love to display in our own homes. We sell only high quality diamonds and jewelry that we would want to wear ourselves, with generally white color and VS/SI1 Clarity. Diamonds should be as white as possible and also have sparkle and fire!

About the Artist:

Sarah Kadlic is a professional, primarily self-taught artist specializing in oil paintings. She paints nearly every day and studies for painting all the time ~ whether it be reading, viewing artwork or just plain living. Her travels through the United States and most of Europe inspire her often in her paintings. People often remark that her paintings just simply "make people feel happy". She has sold many paintings throughout the nation and internationally, in corporate and private collections throughout the world. The artist has been featured in Ohio Magazines, on Good Morning America and in local decorating shows and benefits. Her painting prices have risen nearly 400% since her first year of business. Hopefully, they will be an investment piece for you!

Payment
Payment due within three days of purchasing. 
Shipping
Priority mail shipping to your area via USPS in the contiguous 48 states, United States, Europe, Asia, Canada, Australia.  Please inquire about international shipping rates.  Your painting will be packaged with utmost care in bubble wrap and a custom box.  I offer combined shipping on the purchase of multiple items when possible to ship together.  Please allow 1-3 days for payment processing, packaging and shipping.  Thanks so much for looking!  
Terms
We guarantee the authenticity of all our items and respond to all orders within 24 Hours.
Returns
Satisfaction Guaranteed on all purchases.  No questions asked ~ just return the merchandise in original packing within 30 days of purchase and your payment will be refunded (less shipping).  Feedback and Detailed Seller Ratings are extremely important to me so please communicate to me if I am doing anything less than 100%.  I want you to love it!
Frooition | No-js Template | eBay design, eBay store design, eBay shop design, eBay template design, eBay listing design (ver:froo_no_js)
This listing is currently undergoing maintenance, we apologise for any inconvenience caused.